Over the last year I have photographed along the river that passes through town.  With all of the extreme cold we've had over the past several weeks, there's lots of ice covering large areas of the surface.  Since it is tidal, the ice forms and breaks and re-forms leaving an rough surface interrupted by pools of open water and "streams" that sometimes appear to spring from a tree or log and then disappear again into the ice.
It was cold today … 19 degrees was as high as we reached going by the digital thermometer on my vehicle … and the forecast by the weekend is for us to head back to the upper 40s or low 50s … and then stay within more seasonable norms for a while.  So I knew if I wanted to get photographs of the ice on the river, I needed to act on it now.
My first stop was the city dock.  Normally, it's a very active place … a few people heading out to do a little fishing or paddling by in kayaks or canoes … at least when it's much, much warmer.  Today, the only crowd present was a flock of seagulls.  Quite a few were hunkered down in the parking lot.  Others were sitting on the ice or in an area of open water out in the middle of the river.   I shot several pictures of them rising out of the water or landing in the water.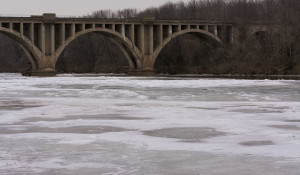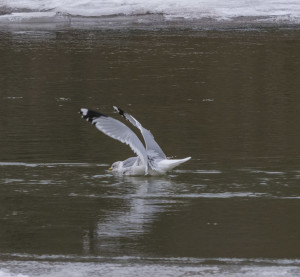 I'll share a few more pictures tomorrow …